Construction stages
The project which began November 4, 2012 is broken down into eight phases to be completed by April 30 2015, the date of the stadium's opening.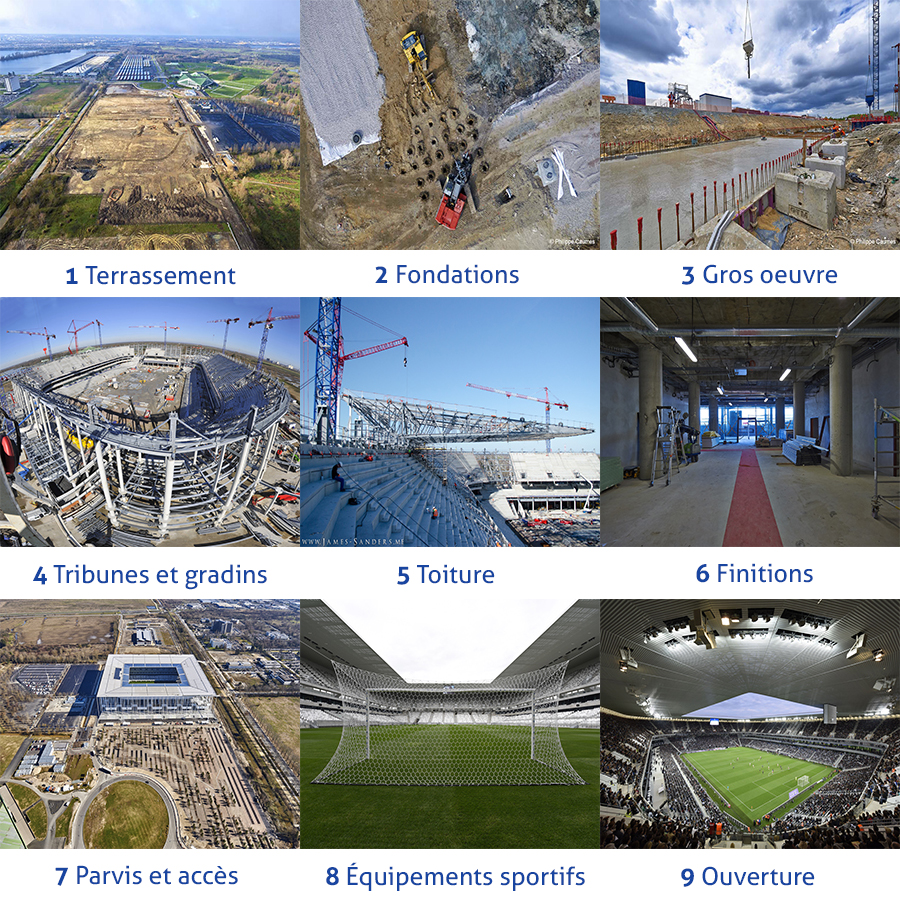 ​
PHASE 1 - Clearing, Cleanup and setting up general headquarters
November 2012 to January 2013
This phase consisted in cleaning up the site of the future stadium and installing the basic headquarters designed to accommodate the supervising staff (builders, owners, management) and companions.
PHASE 2 - Earthworks and Foundations
January 2013 to May 2013
Foundations are by definition an essential element of any building. No less than 945 piles were drilled during this period with an average depth of 22 meters on a particularly loose and compressible soil to put in place the Matmut Atlantique's foundations.
Over 10 000 horizontal and vertical drains were also put into place in order to accelerate the land's descent by forcing a rise a water.
PHASE 3 - Structure
April 2013 to October 2013
This stage began with the putting in place of the 7 fixed tower cranes: 6 spread over the construction site and the seventh in charge of the precast bleachers.
A concrete plant was also constructed to produce the necessary concrete required for the manufacture of the slab, the precast bleachers and the whole of the structural works.
The east and west lower stands are built during this phase, essentially in concrete unlike the north and south stands which are entirely metallic. 
PHASE 4 - Metal frame work of grandstands
July 2013 to January 2014
Over 3,600 bleacher elements were prefabricated on site and began to be installed starting July 2013: in total, 24 km of bleachers were put into place on which were attached the spectators' seats.
In parallel, the metal frame was mounted in the north and south stands where they were bound to the metal racks receiving the bleachers.
PHASE 5 - roof's metal frame
January 2014 to July 2014
During this phase took place the pre-assembly of the framework elements on the ground, the mounting of the roof, its cladding and the exterior soffit.
PHASE 6 - secondary contractors
October 2013 to December 2014
A true hive comes to life with the secondary stage and its twenty technical lots:
- Classics (eg woodwork, metalwork, floors, plastering, electrical ...)
- Specific to the stadium (eg video surveillance, access control, lighting, sound, giant screens, signage...)
It was the coming together between a work of art and a classic building.
PHASE 7 - Parvis and access
September 2014 to December 2014
The building will be completed. This phase consisted in landscaping the stadium's exterior including the parvis with a surface area of ​​more than four hectares: plants, walkways, street furniture, lighting.
PHASE 8 - Sports facilities
October 2014 to December 2014
The highlight was reserved for putting in place the pitch, the spectators' seats, the game elements and modular stands.
And to finish, the testing and approval phase allowed the Matmut ATLANTIQUE's history to begin.
PHASE 9 - OUVERTURE DU STADE
30 AVRIL 2015